Heat Transfer &
Dye Sublimation
Heat Transfer MEDIA APPLIED WITH heat press !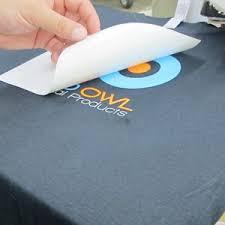 Digitally printed and applied to the garment using high heat transfer and dye sublimation, vinyl printing produces vivid colours, crisp lines and a spectacular finish. Vinyl transfers can be used to print designs onto surfaces where the usual methods are not able to reach, like a hat. They produce high-quality results on almost any kind of fabric. Choose from a wide range of colours, and have numbers or lettering cut out using our digital vinyl plotter. We can also provide special colour finishes: gloss, metallic, reflective, fluoro and even glitter.
Firstly, your artwork is checked by our team to ensure it can be processed by our vinyl cutter. The coloured vinyl you pick is loaded onto the machine, and it perfectly scores the design. The cut design is then manually 'weeded' (unnecessary parts, like negative space and insides of letters, are removed) before it is pressed with an industrial heat press to permanently fix the design to your garment.

For a design with multiple colours, a digitally printed transfer is ideal. Digital prints also allow for reproduction on darker coloured clothing. The modern super stretch materials are bonded to the product and maintain their colour and glossy appearance for the life of the garment.
Dye sublimation printing is one of the most effective methods for creating a whole range of customised and personalised products on-demand. This means you can deliver an almost limitless variety of creative and profitable applications, that will enable you to extend your range of services to your existing clients, or indeed open up a spectrum of new markets to you.
 With inkjet dye sublimation printing, you can print onto a vast range of fabrics and coated surfaces in many widths and lengths, including stretchy sports fabrics, heavy canvas, fire retardants and ultra-light voiles. 
This means you can deliver a huge range of applications including flags, banners, sportswear, fashion clothing, interior décor and promotional gifts.